Typical cuisine of the Val di Fassa and more
The Debertol Family members have such a deep experience in the food service industry that they personally run the Restaurant Hotel La Perla.
Our Chef prepares the dishes of the traditional cuisine of Trentino and Val di Fassa using that balance, which is a specific feature in those people, who know the raw material very well. Chef Mauro Debertol has worked in the most important brigade de cuisine of Trentino and after several years has come back to run the restaurant of the family with passion and enthusiasm. He expresses his talent searching carefully the quality of the products and mixing them in an extraordinary way. Yes, he really knows how to convey his knowledge, values and style to his brigade!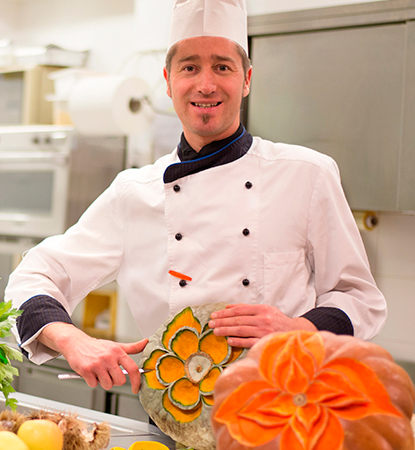 Along with the speciality of Trentino, we always offer several menus of our Mediterranean cuisine or the international one, in order to satisfy all our guests.
We carefully create a specific menu for people with food intolerances such as coeliac disease, fruit or lactose allergy. We suggest you to make it clear during your booking.
Moreover, for those people who love to be fit and prefer to keep an eye on calories during the holidays, they can choose a "Light" menu. It is an option that we have added to the existing menus and it is as tasteful and various as the classical ones.
If you love wine, you will find a good bottle in our fully stocked wine cellar of Hotel La Perla, for sure. We offer a wine list with the most important and refined wine labels from Trentino and South Tyrol area. Our wine cellar has international wine labels too, so that you can create the perfect match with your tastes and mood. Our Sommelier will help you to find the best solution for you!