The serviceHotel La Perla, 4-star facilities in the Dolomitess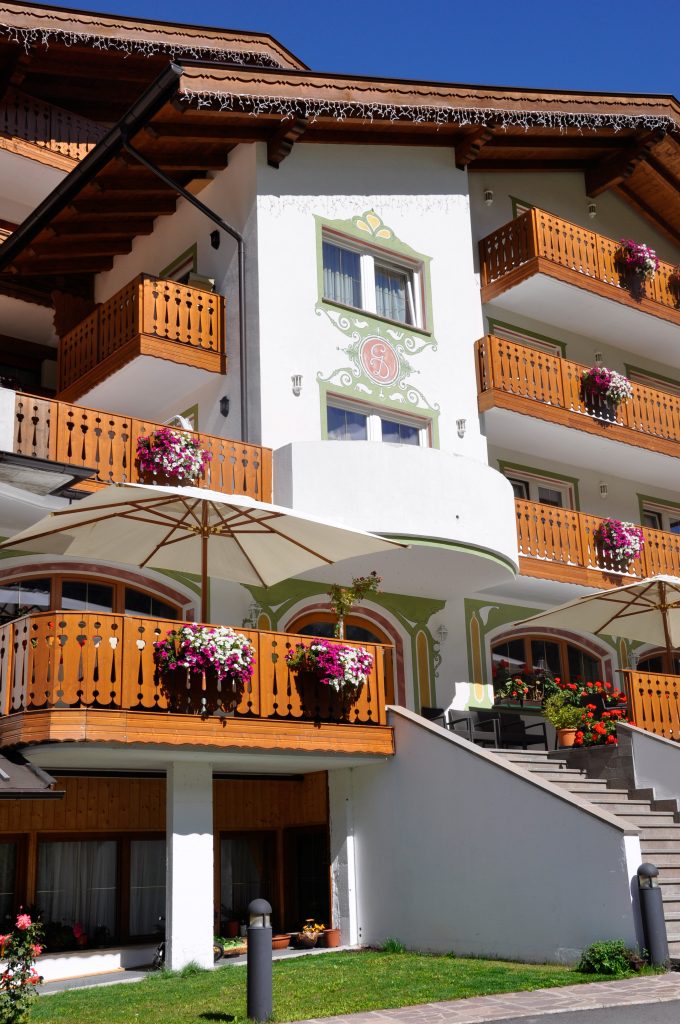 From a holiday to remember one expects faultless service which must meet the needs of all the guests, sometimes with very different needs. That is why we have created the "Pension Plus" formula ensures the guests of the 'Hotel La Perla many services included in the price, to be used freely when they wish, without any additional charge.
In addition, in the hotel, you will find lots of spaces for your activities, planned and managed in accordance with individual needs.: the welcoming reception, the bar with the lounges and the solarium terrace, the Restaurant rooms and the "stube" so intimate in their typical alpine style, and then the rooms, all new and elegant, the private garage for your cars and the mountain bikes… You will be spoiled for choice.
If we talk about Wellness there is no match: the Wellness Centre of the Hotel La Perla is the most famous in Canazei because of its size and its beauty services. Not to mention the entertainment areas: the games room, the kids' club and the Cliff, the entertainment place for the evening.
Panoramic Terrace, sun terrace, private parking and garden, complete the map of the 4-star facilities of the Hotel La Perla.
THE PENSION PLUS IN SUMMER
includes:
Welcome drink served at the table the night of arrival.
Delicious buffet breakfast with the corner of bread, fresh fruit, canned fruit, dried fruit and muesli, yogurt, jams, juices, cakes, pastries and cookies, open from 7.30 to 10.00. Late risers may enjoy a small breakfast at the bar until 12.00.
Rich afternoon buffet with fresh snacks direct from our kitchen accompanied by a wide selection of tea, available to all guests from 16.00 to 18.00, on Tuesday, Friday and Sunday.
A stylish 4-course dinner with a choice of 4 menus including a "Light" option, cheese platter, a large buffet of salads and cooked vegetables, sauces and seasonings to taste.
Weekly gourmet theme evening
Free access to the Wellness Centre with large indoor pool, several saunas and gym. Sauna towel. (Children aged under 14 years are  allowed to stay in the pool strictly until 17.30).
Herbal Teas' corner in the Wellness Centre.
Deck chairs and loungers for sunbathing in the garden with panoramic view of the Dolomites.
Free mountain bike rental service
Wide selection of newspapers and magazines.
Walks and tours with local expert guide, every day from Monday to Friday.
Evening room tidying.
Indoor garage for all rooms.
THE PENSION PLUS IN WINTER
includes:
Welcome drink served at the table the night of arrival.Delicious
buffet breakfast with the corner of bread, fresh fruit, canned fruit, dried fruit and muesli, yogurt, jams, juices, cakes, pastries and cookies, open from 7.30 to 10.00. Late risers may enjoy a small breakfast at the bar until 12.00.
Rich afternoon buffet with fresh snacks direct from our kitchen accompanied by a wide selection of tea, available to all guests from 16.00 to 18.00, on Tuesday, Friday and Sunday.
A stylish 4-course dinner with a choice of 4 menus including a "Light" option, cheese platter, a large buffet of salads and cooked vegetables, sauces and seasonings to taste.

Weekly gourmet theme evening.

Free access to the Wellness Centre with large indoor pool, several saunas and gym. Sauna towel. (Children aged under 14 years are  allowed to stay in the pool strictly until 17.30).

Herbal Teas' corner in the Wellness Centre.
Wide selection of newspapers and magazines.

Evening room tidying.

Indoor garage 6 euros per day or 40 euros per week

Christmas: Dinner on December 24th, Christmas Eve, included in the price